The Parent-Child Play Group is a small weekly group for children 4-30 months old and their parents. Spoken languages are Dutch and English.
Register before 10 January 2022 to take part this winter in the Parent-Child Play Group. A course includes eight play sessions and two online meetings for parents.
Yes! We'd like to join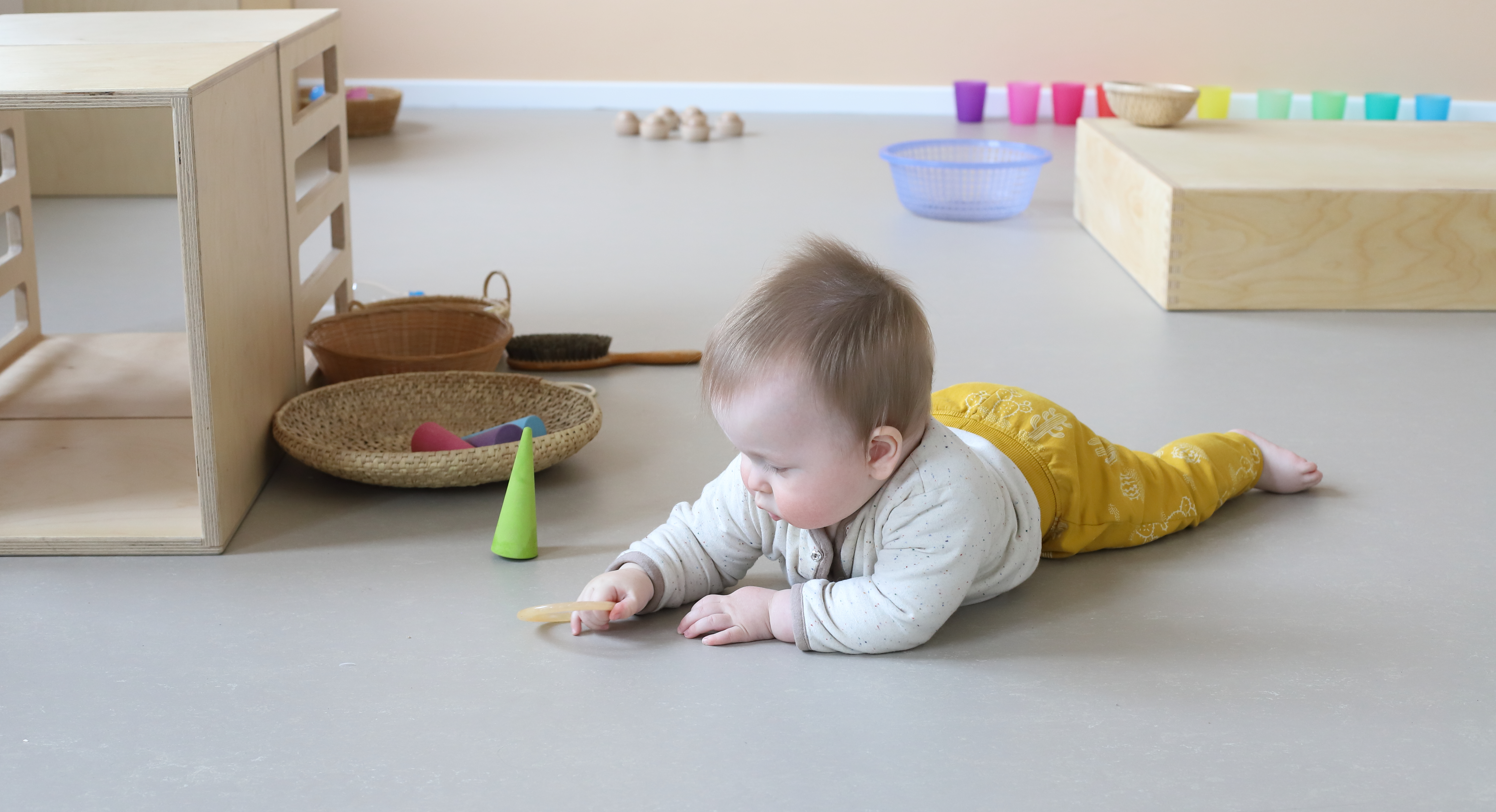 Parent-Child Play Group
Upon entering the play area you and your child find one of the cushions placed on the edges of the room to sit on. Your child sits in your lap. From this familiar and safe space he can decide to go on an adventure and explore the space that's been carefully arranged with attractive open ended toys and age appropriate climbing structures. He might grab a ring that's lying close by and drop it to see what happens or discover the sound it makes by repeatedly knocking it against the floor. He's following his own initiative during play. He might want to explore how to climb on and off an elevated area, learning how to navigate height, finding his own balance and seeking out the risk he is willing to take.
The play group is guided by a trained playgroup facilitator. This will give the ease and comfort to sit back as a parent and observe your child's resourcefulness and see what he is learning through play. The playgroup facilitator will sit with you and share what she observes. When necessary she's there to calmly but adequately help your child. For instance when it looks like he might lose his balance during climbing or when two children want to have the same toy.
The interventions of the playgroup facilitator are done in such a way that there is space for your child's self solving abilities. You see how he handles challenging situations, what solutions he comes up with and when it is necessary to provide guidance. This will increase your child's self-confidence and autonomy, but also your confidence in the competence of your child.
The online parent meeting
You'll be introduced to the pedagogical viewpoint of Emmi Pikler and we'll discuss experiences from the play group. We'll discuss topics that you encounter as a parent. This could be about play development and how you can set up a suitable and inviting play environment at home, what is involved in respectful care, how you can contribute to your child's language development or how you can guide independent movement development.
The spoken languages are Dutch and English. The children are spoken to in the language they are used to hearing at home. The parent meetings are in English, unless the group consists entirely of Dutch-speaking parents.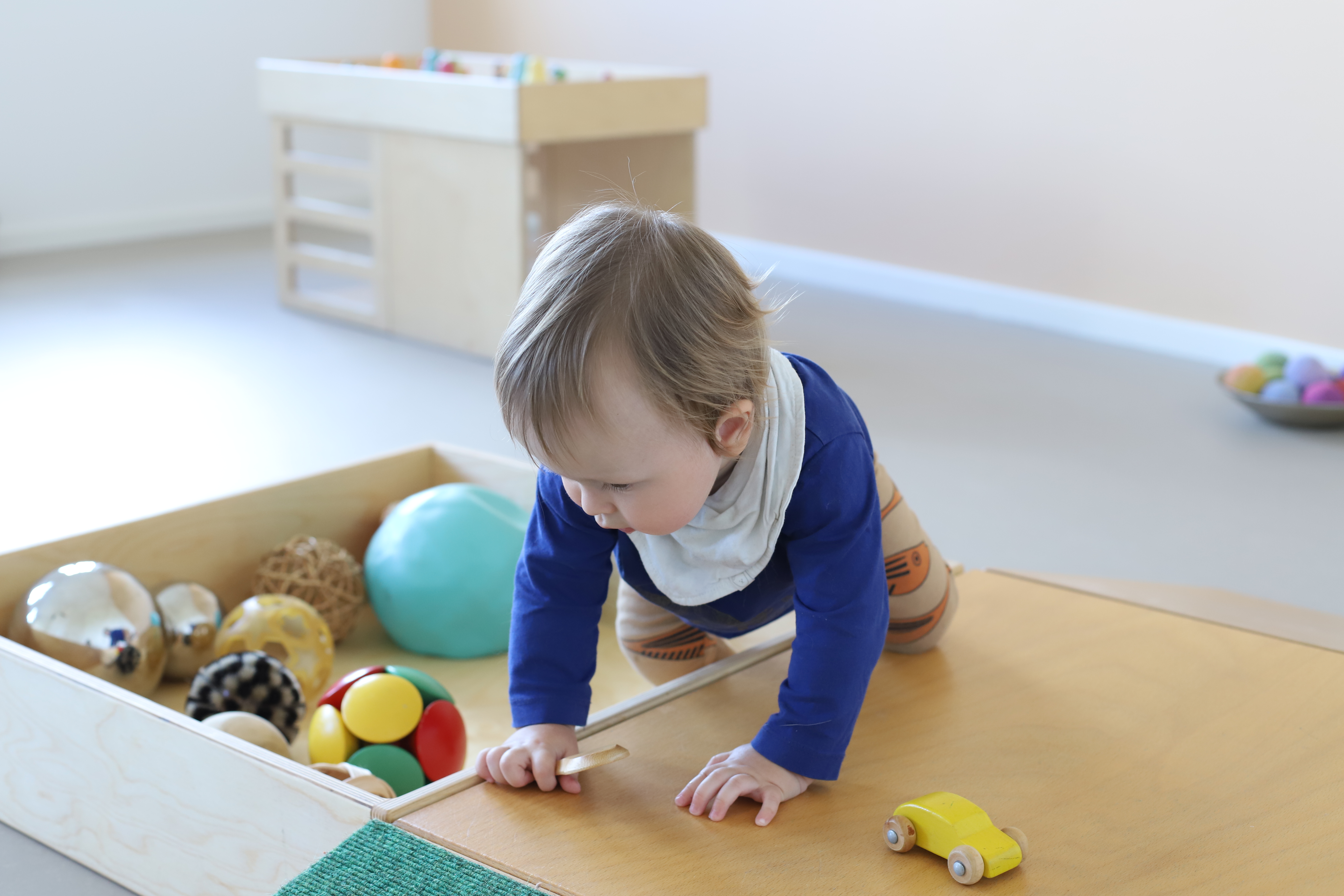 What you can expect:
A carefully prepared play area that suits your child's developing needs.
A trained course leader to support you and your child.
An introduction to Emmi Pikler pedagogy/RIE parenting.
A weekly moment to wind down and take pleasure in observing your child's discoveries.
Learn about:
The Pikler approach to respectful caregiving.
The language to help your child process their experiences.
Your child's play needs and suitable play materials.
How to support your child's gross motor development.
Practical parenting tips.
For your child:
A peaceful environment specially designed with babies and toddlers in mind.
Open ended play materials.
Climbing structures that meet your child's need to move.
Self-chosen activities contribute to an improved ability to hold their attention and to feelings of empowerment.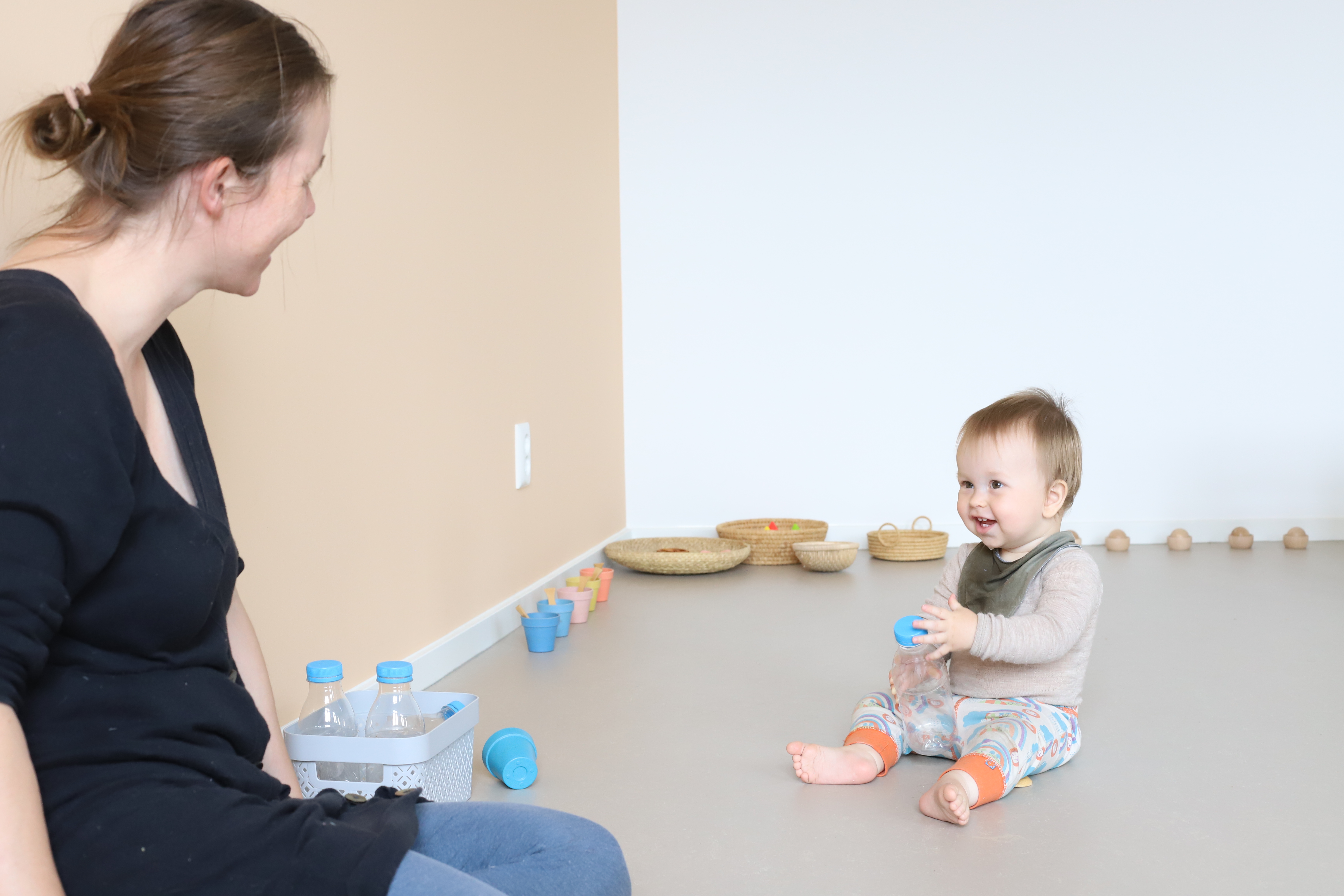 Where
Wednesday 10.00 - 11.30 In Their Own Time, Inkoperhof 20, Rijnsburg.
Saturday 9.00 - 10.30 In Their Own Time, Inkoperhof 20, Rijnsburg.
Take a look
Are you interested but still have questions, or would you like to see the play space for yourself? On Saturday 8 January it is possible to meet the play group facilitator and see the play space. Your child is welcome too. Contact me at info@intheirowntime.nl or call 06-48448322 to make an appointment.
Sign up
Register before 10 January 2022 to take part this autumn in the Parent-Child Play Group. Enrolment is €150,- and includes eight play sessions and two online meetings for parents.
Yes! We'd like to join
Dates for winter 2022
There is space for 4 parent-child pairs on Wednesdays
Date
Time
Location
Monday 17 January
20.30 - 22.00
online introduction evening
Wednesday 19 January
10.00 - 11.30
play group at In Their Own Time
Wednesday 26 January
10.00 - 11.30
play group at In Their Own Time
Wednesday 2 February
10.00 - 11.30
play group at In Their Own Time
Wednesday 9 February
10.00 - 11.30
play group at In Their Own Time
Wednesday 16 February
10.00 - 11.30
play group at In Their Own Time
Wednesday 23 February
10.00 - 11.30
play group at In Their Own Time
PLEASE NOTE
No class
On Wednesday the 2nd of March
Wednesday 9 March
10.00 - 11.30
play group at In Their Own Time
Thursday 10 March
20.30 - 22.00
online parent meeting
Wednesday 16 March
10.00 - 11.30
play group at In Their Own Time
There is space for 4 parent-child pairs on Saturdays
Date
Time
Location
Wednesday 12 January
20.30 - 22.00
online introduction evening
Saturday 15 January
9.00 - 10.30
play group at In Their Own Time
Saturday 22 January
9.00 - 10.30
play group at In Their Own Time
Saturday 29 January
9.00 - 10.30
play group at In Their Own Time
PLEASE NOTE
No class
On Saturday the 5th of February
Saturday 12 February
9.00 - 10.30
play group at In Their Own Time
Saturday 19 February
9.00 - 10.30
play group at In Their Own Time
Saturday 26 February
9.00 - 10.30
play group at In Their Own Time
Saturday 5 March
9.00 - 10.30
play group at In Their Own Time
Monday 7 March
20.30 - 22.00
online parent meeting
Saturday 12 March
9.00 - 10.30
play group at In Their Own Time